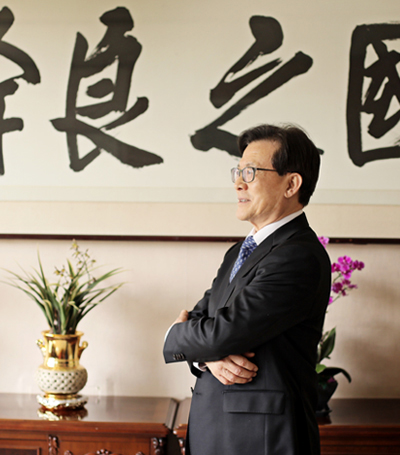 It is my uncommon privilege to steer the Sejong Institutes as its new Chairman.
Sejong was founded in 1986 in the midst of the Cold War. It has since served as the nation's key platform that provides creative ideas for policy and national strategy on the complex geopolitics surrounding the Korean Peninsula, in unification, diplomacy and security.
Peace on the Korean Peninsula where 'the integrity of daily life' could be preserved, was the very reason on which the Sejong Institute was founded. In many other countries, this is an 'ordinary' life. But in Korea, this is 'extraordinary.' We don't take peace for granted. Sejong will strive its best to actualize this important founding spirit.
At different times in its history, Sejong focused its strengths and resources on different priorities, with a keen sense of its historical mission. In that regard, we will focus our capacity and resources on the following areas.
First, we will expand public diplomacy outreach toward the U.S and networking with its policy institutes. With the inauguration of Donald Trump, the U.S.-Korea relationship entered a new chapter, as elsewhere in the world. This poses new challenges as well as new opportunities. The alliance between the Republic of Korea and the United States is as strong as ever, but it also underscores the importance of due diligence at this time of unprecedented uncertainty.
In this vein, we will reinstitute the "Sejong-Washington Forum," a premium track 1.5 forum. We will also facilitate more meetings with key figures from the U.S. during their visits to Korea for in-depth discussions and exchanges.
Second, we recognize that China will continue to remain a key player in the course of the evolving situation on the Korean peninsula, including the on-going denuclearization talks between the U.S. and North Korea
In addition, Sejong will expand its cooperation and exchange programs with Japan, Russia, Southeast Asia, including India and ASEAN states, in response to the "New Northern Policy" and the "New Southern Policy" initiatives that the Moon Jae-in administration ambitiously unveiled.
Third, we will continue to vitalize our mid-career training program for national civil servants that has been a signature success project of Sejong with a long tradition. With the addition of a new program for international diplomats, we will share our expertise to the service of strengthening professional capacities of diplomats from emerging economies.
Sejong will continue to play a key role in architecting creative policy solutions that can meet unforeseen challenges the nation faces in the 21st century and share our experiences with friends around the world.
I cordially invite you to join my vision.