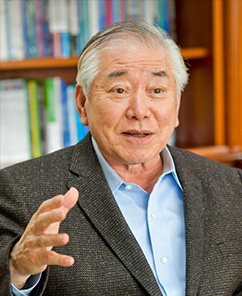 Greetings from Chairman

Chung-in Moon
South Korea faced a tough and challenging time last year. This year looks equally arduous. The COVID-19 pandemic, intensifying rivalry between the U.S. and China, and the impasse in inter-Korean relations amid stalled denuclearization talks continue to preoccupy political leaders and the public alike. Taken together, these challenges ensure that the security environment surrounding South Korea will remain uncertain and precarious.


The Sejong Institute, the oldest non-partisan, independent think tank in South Korea, was established to promote national and social development by providing deep and extensive analysis of the changing security environment and crafting viable policy alternatives.

First established as a part of the Ilhae Foundation in 1986, and renamed as the Sejong Institute in 1988, the institute has undergone many transformations as it has evolved. Over time, it has become a leading research center in the country by producing groundbreaking research in the field of Korean reunification, diplomacy and national security, and area studies. But it has no plans to rest on its laurels, no matter how distinguished they are. It is determined to build on its record and continue to be a center of excellence for the country and for the world.

The institute, will therefore, be ever more creative and encourage more research that can contribute to national policy.

In addition to its extensive portfolio of programs, the institute recently established the defense studies center and the center for national intelligence and cybersecurity. The institute will also forge research initiatives in other newly emerging security issues such as climate change, the pandemic, and nuclear proliferation.

For the past three decades, the Sejong Institute has run the prestigious National Strategy Training program for senior government officials. It is also committed to strengthening and diversifying its education and training programs for local governmental officials and foreigners. For example, Sejong has been successfully running a training program for banking and financial specialists from ASEAN countries.

The Sejong Institute will also make every effort to enhance its global presence. It has already started doing that. The institute has not only invited internationally renowned scholars and former political practitioners as non-resident fellows, but has also been cooperating with leading international think tanks and academic institutions as well as conducting joint research projects with them. We will continue such efforts as part of our goal of creating a truly Global Sejong.

The members of the Sejong community share a common vision of a Global Sejong and are committed to achieving this vision.

Thank you for your active interest and support.
January 2022
Chung-in Moon, Chairman